Adobe has been working on a new tool that will revolutionize the audio editing industry – Adobe VoCo Photoshop for Voice. This powerful tool, locked in Adobe Lab, is set to change the way audio editing is done by making it as easy as editing text.
What is Adobe VoCo?
Adobe VoCo is a new audio app developed by Adobe that allows users to synthesize speech fluently and in any voice. It is designed to make audio editing much easier for professionals who work with audio, such as podcasters, radio announcers, and voiceover artists. With this tool, users can edit voice recordings easily, just like they would work with text in Photoshop.
How Does Adobe VoCo Work?
Adobe VoCo uses machine learning and artificial intelligence technology to build a realistic voice model. The model is then used to synthesize speech that is almost indistinguishable from natural speech. The software is used to capture samples of someone's voice across multiple takes, and then uses an algorithm to create a digital version of that voice, similar to how Photoshop creates a digital image from multiple layers of an original image. With this voice model, the user has the ability to change the spoken word and add new words to the recording.
How Can Adobe VoCo Be Used?
There are many ways in which Adobe VoCo can be used. For example, podcasters can use it to edit their recordings in post-production, by tweaking the voice, adding sound effects and enhancing the overall sound quality. Radio announcers can benefit from it by editing out unwanted parts of their speeches while maintaining the naturalness of their voice. Voiceover artists can use it to change the intonation and pitch of their speech on the fly so that they can create different versions of the same recording.
Tips for Using Adobe VoCo
Tip 1: Be Cautious with Your Editing
While Adobe VoCo is a powerful and exciting tool, it's important to use it carefully. This technology has the potential to be used unscrupulously, such as to spread fake news, take people's words out of context, or even impersonate others. Therefore, use Adobe VoCo only for purposes that comply with laws and ethical standards.
Tip 2: Use High-Quality Recordings
The quality of your recording will affect the quality of the final output. To ensure that Adobe VoCo works effectively, make sure to use a high-quality recording with good clarity and minimal background noise. This will give you the best possible output.
Tip 3: Practice and Experiment
As with any new tool, the best way to gain proficiency with Adobe VoCo is to practice and experiment. Play around with the features of the app, try to create different voice styles and test how they sound. This way, you'll be able to master the app and use it in the best possible way.
Ideas for Using Adobe VoCo
Idea 1: Create Audio Advertisements
Adobe VoCo can be used to create audio ads that are witty, clever and funny. With this tool, you can tweak the recording, change the tone and add sound effects to create the perfect ad that sells your product or service.
Idea 2: Voiceovers for Documentaries
Documentaries require engaging narrations to keep the audience interested. Adobe VoCo can help you create a perfect narration that suits the tone and style of the documentary. You can tweak the pitch, tone and even the intonation to make it sound just like you want it to.
Idea 3: Podcast Editing
Adobe VoCo is an ideal tool for podcast editors. With its features, you can edit your recording, remove background noise, and add special effects to make your podcast stand out. You can also create different versions of the same recording to appeal to different audiences.
How to Use Adobe VoCo?
Using Adobe VoCo is easy. Start by downloading it from Adobe Labs. Once you have installed the app, follow the simple steps below:
Open Adobe VoCo app on your PC.
Load your audio file by dragging and dropping it or by clicking the 'Load' button on the app's interface.
Choose your desired output by selecting the pitch, tone and intonation.
Click the 'Edit' button to tweak the voice or add new words to the recording.
Save the file in your desired format, such as WAV or MP3 file.
Adobe VoCo is a promising new tool that will make a big difference in the audio editing industry. It is easy to use, and its capabilities are limitless when it comes to voice editing. The app will be a game-changer for podcasters, voiceover artists, and radio announcers, and with its ease of use, even amateurs can try their hand at editing voice recordings.
If you are looking for Adobe VoCo – новый инструмент для работы с аудио от Adobe • SAMESOUND you've visit to the right web. We have 7 Images about Adobe VoCo – новый инструмент для работы с аудио от Adobe • SAMESOUND like Adobe's Project VoCo lets you edit speech as easily as text – TechCrunch, Adobe VoCo – новый инструмент для работы с аудио от Adobe • SAMESOUND and also Adobe's Project VoCo lets you edit speech as easily as text – TechCrunch. Here you go:
Adobe VoCo – новый инструмент для работы с аудио от Adobe • SAMESOUND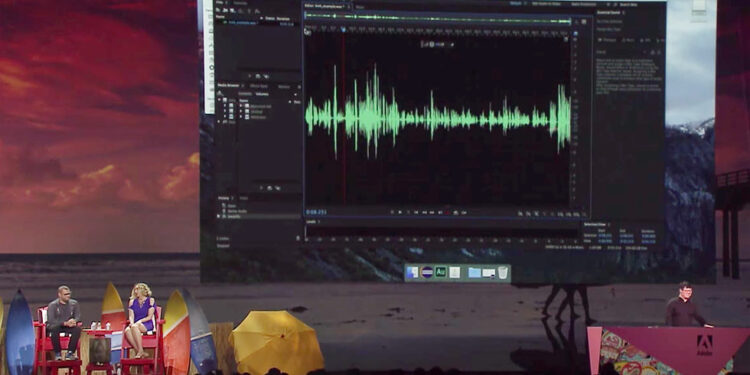 samesound.ru
Adobe VoCo Photoshop For Voice – A Powerful Tool Locked In Adobe Lab
amitghosh.co.in
adobe voco photoshop voice
This Is Scary: Project VoCo Audio App That Gets Announcers To Say
radiotoday.com.au
voco say them want announcers scary anything audio gets app project personality exactly wish could times many air
Adobe's Project VoCo Lets You Edit Speech As Easily As Text – TechCrunch
techcrunch.com
voco techcrunch
Projet Abobe VoCo, Un Photoshop Pour La Voix, éditeur Vocal, VoiceOver
fr.audiofanzine.com
Adobe VoCo Is Photoshop For Sounds, And This Amazing Video Shows How It
www.techeblog.com
adobe voco photoshop sounds works shows amazing techeblog
Adobe VoCo Photoshop For Voice – A Powerful Tool Locked In Adobe Lab
amitghosh.co.in
voco probable
Adobe's project voco lets you edit speech as easily as text – techcrunch. Adobe voco is photoshop for sounds, and this amazing video shows how it. Adobe voco photoshop sounds works shows amazing techeblog