Chronic diseases are the leading cause of morbidity and mortality worldwide. These diseases cause significant disability, reduce quality of life, and increase healthcare costs. In this post, we will explore some of the most common chronic illnesses and provide tips and ideas to help manage them.
The Top 10 Most Common Chronic Diseases for Older Adults
As we age, our risk for chronic diseases naturally increases. Here are the top 10 most common chronic illnesses for older adults:
Heart disease
Stroke
Cancer
Chronic obstructive pulmonary disease (COPD)
Alzheimer's disease
Diabetes
Chronic kidney disease
Arthritis
Osteoporosis
Depression
The Most Common Chronic Disease Of Children
Children are not immune to chronic illnesses either. The most common chronic diseases in children are:
Asthma
Attention-deficit/hyperactivity disorder (ADHD)
Autism
Cerebral palsy
Cystic fibrosis
Diabetes
Epilepsy
Muscular dystrophy
Sickle cell anemia
Spina bifida
Tips and Ideas for Managing Chronic Diseases
Stay Active
Exercise is important for maintaining physical and mental health, regardless of age or medical condition. Talk to your doctor about what type and how much exercise is safe for you. Some activities to consider include walking, swimming, and strength training.
Eat a balanced diet
A healthy diet is important for managing chronic illnesses because it can help manage weight, blood sugar, and other important health markers. Consider consulting with a registered dietitian to develop a balanced meal plan.
Get enough sleep
Sleep is vital for overall health and managing chronic illnesses. Try to get at least 7-8 hours of sleep each night, and establish a regular sleep schedule. Avoid caffeine and alcohol close to bedtime and reduce screen time before bed.
Manage stress
Stress can exacerbate chronic illnesses and impact overall health. Strategies for managing stress include deep breathing, meditation, yoga, and massage therapy. Consider talking to a mental health professional for additional support.
Take medications as prescribed
If you are taking medications to manage a chronic illness, it is important to take them as prescribed by your doctor. This will help ensure that you are getting the full benefit of the medication and reduce the risk of side effects. Be sure to talk to your doctor if you have any concerns or questions about your medication regimen.
Stay informed
Stay informed about your chronic illness and ask your doctor for resources that can help you manage your condition. Consider joining a support group or connecting with organizations that offer support and resources for people with your condition.
Conclusion
Managing chronic diseases can be challenging, but there are many strategies and resources available to help you stay healthy and manage your condition. Remember to stay active, eat a balanced diet, get enough sleep, manage stress, take medications as prescribed, and stay informed about your condition. Together we can manage and eventually eliminate these chronic diseases.
If you are looking for Are you Dealing with Chronic Illness – Fox Valley Institute you've visit to the right page. We have 7 Pics about Are you Dealing with Chronic Illness – Fox Valley Institute like The Top 10 Most Common Chronic Diseases for Older Adults, List of chronic illnesses presented by participants (N = 115) n and also List of chronic illnesses presented by participants (N = 115) n. Read more:
Are You Dealing With Chronic Illness – Fox Valley Institute
fvinstitute.com
illness dealing recognize
The Top 10 Most Common Chronic Diseases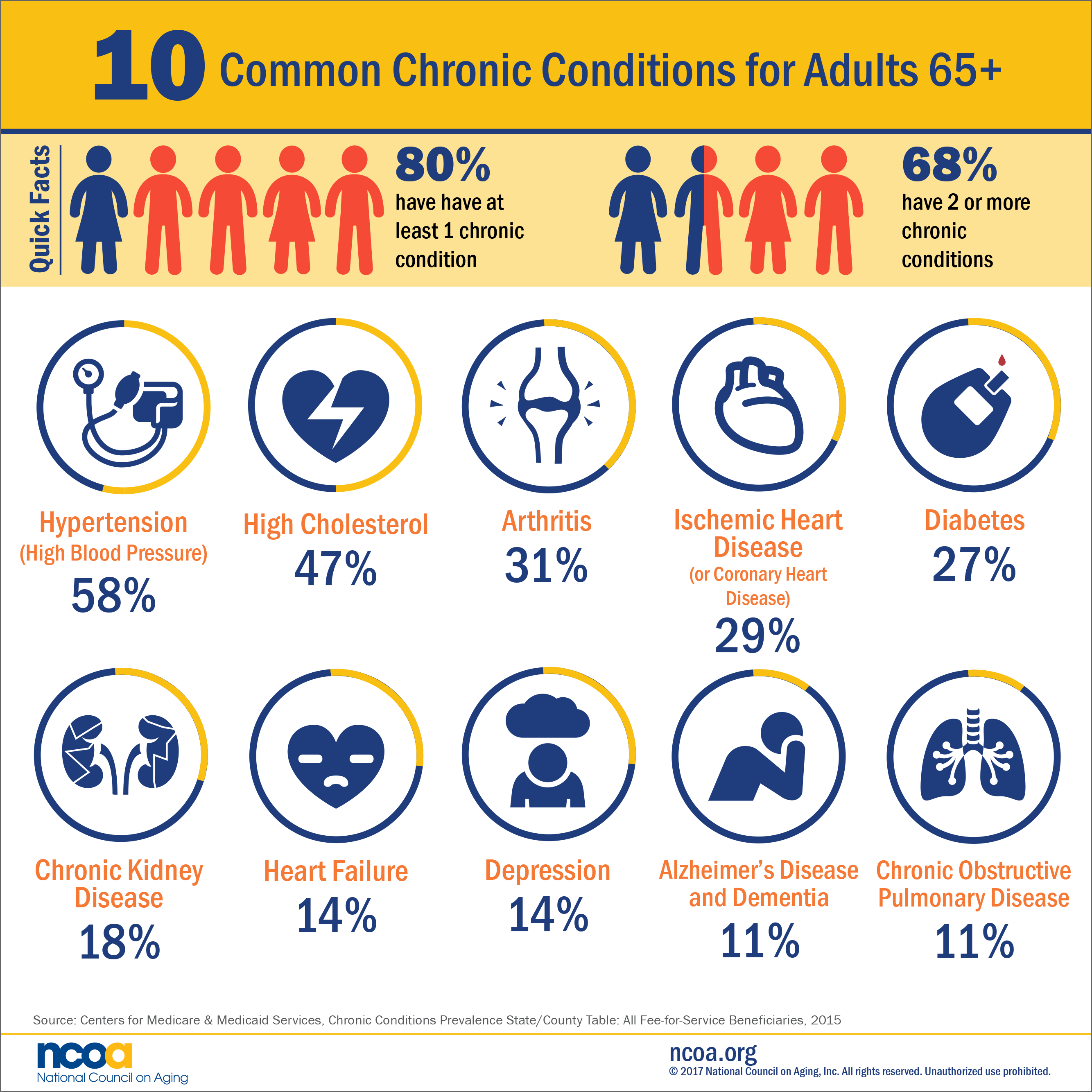 www.ncoa.org
chronic chronische ncoa krankheit illnesses pulmonary krankheiten term copd obstructive hypertension
Chronic Disease Infographic – Healthy Lucas County
www.healthylucascounty.org
disease infographic
The Most Common Chronic Disease Of Children Is – Captions Save
captionssaveusa.blogspot.com
chronic illnesses prevalence
List Of Chronic Illnesses Presented By Participants (N = 115) N
www.researchgate.net
chronic illnesses
The Top 10 Most Common Chronic Diseases For Older Adults
www.ncoa.org
chronic elderly ncoa wearable infograph infographics pulmonary copd obstructive
Why Chronic Disease Is More Widespread Than Ever – And What We Can Do
efundyourhealth.org
why illness illnesses widespread diseases prevalent wiredpen
Chronic illnesses. The top 10 most common chronic diseases for older adults. Chronic chronische ncoa krankheit illnesses pulmonary krankheiten term copd obstructive hypertension