According to various studies, men are less likely to seek help for their mental health compared to women. This is a concerning trend that needs to be addressed. In order to bring awareness to this issue, Men's Mental Health Awareness Day is observed on the 13th of June every year. This day serves as a reminder that men's mental health needs to be prioritized and talked about openly.
To support this cause, we have gathered some important tips, ideas, and how-tos to promote men's mental health. So, let's start by addressing the importance of mental health and why it's essential to prioritize it.
Mental health not only affects our emotional well-being but also our physical health, relationships, and overall quality of life. When we ignore our mental health, we may experience various physical symptoms like headaches, sleep problems, fatigue, and many more. In addition, it can also cause problems in our personal and professional relationships.
Therefore, it's important to prioritize our mental health and take care of ourselves. Here are some tips to promote men's mental health and well-being:
1. Talk about your feelings with someone you trust – Sharing your thoughts and emotions with someone can help you feel better and reduce stress.
2. Take care of your physical health – Physical activity and a healthy diet can boost your mental health and improve your mood.
3. Get enough sleep – Lack of sleep can negatively impact our mental health and overall well-being. Make sure to prioritize getting adequate sleep and establishing a sleep routine.
4. Learn stress management techniques – High levels of stress can have a negative impact on our mental health. Learning stress management techniques like deep breathing, meditation, and mindfulness can help us manage stress more effectively.
Now that we have covered some tips to promote mental health, let's talk about some ideas that can be implemented in our daily lives to improve our overall well-being:
1. Start your day with gratitude – Practicing gratitude can help shift our focus towards positivity and help us find joy in the present moment.
2. Connect with nature – Spending time in nature can have a therapeutic effect on our mental health and help us become more mindful.
3. Find a hobby – Pursuing a hobby can help us feel more fulfilled and provide a sense of purpose.
4. Plan activities with friends and family – Spending time with loved ones can provide a sense of community and belonging and reduce feelings of isolation.
Now that we have discussed some ideas and tips to improve mental health, let's take a look at some resources for support and assistance:
1. The National Suicide Prevention Lifeline – Available 24/7 for anyone in crisis. Call 1-800-273-TALK (8255) for assistance.
2. Mental Health America – Provides various resources and support for individuals seeking mental health assistance.
3. Psychology Today – Allows individuals to search for mental health professionals in their area.
We hope this article has provided some useful tips, ideas, and resources to promote men's mental health. Remember, taking care of your mental health is just as important as taking care of your physical health. It's important to prioritize self-care and seek assistance when needed.
If you are searching about Men's Health Week | Dr Romana Bowd Psychology you've came to the right web. We have 7 Pics about Men's Health Week | Dr Romana Bowd Psychology like Men's Health Week | Dr Romana Bowd Psychology, Men's Mental Health Awareness Month | McComb Students and also CMHA recognizes Men's Mental Health Awareness Day | CMHA Windsor-Essex. Read more:
Men's Health Week | Dr Romana Bowd Psychology
www.romanabowdpsychology.com.au
suicides
Men's Mental Health Awareness Month | McComb Students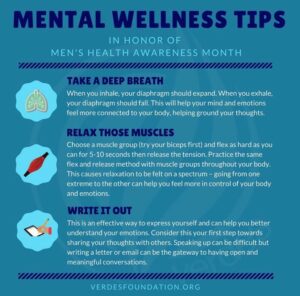 www.mccombstudents.com
month willing
Men's Mental Health Awareness Day
teentalk.ca
mental health awareness men mens
Men's Mental Health Awareness – Mental Health Awareness – T-Shirt
www.teepublic.com
CMHA Recognizes Men's Mental Health Awareness Day | CMHA Windsor-Essex

windsoressex.cmha.ca
cmha recognizes
Movember Giveaway 2015 – The Copper Hat
thecopperhat.ca
mental health men mens month infographic june ca movember talk giveaway illness marie being
It's Men's Mental Health Awareness Week
www.mane.co.uk
mane
Cmha recognizes. Mental health men mens month infographic june ca movember talk giveaway illness marie being. Movember giveaway 2015